Vauxhall Launches Most Economical Car In Company's History
With a combined C02 rating of just 105g/km, the latest Vauxhall Corsa ecoFLEX shaves a remarkable 14g/km off the outgoing model's emissions figure, and now achieves 85.6mpg on the Government's extra urban fuel cycle - an improvement of over 13 per cent.
Now officially Vauxhall's most economical production vehicle in its 106-year history, the 3-door only Corsa ecoFLEX will pave the way for even more efficient vehicles, such as the groundbreaking Ampera, as the company reinforces its commitment to reducing C02 emissions.
On sale now, the new Corsa ecoFLEX has a raft of improvements to optimise its already efficient aerodynamics and 1.3-litre CDTi powertrain, which still produces 75PS and achieves similar performance to that of the outgoing model.
A shorter second-gear ratio improves the Corsa ecoFLEX's driveability around town, while the engine's generous 170Nm of torque from just 1750rpm allows it to pull a taller fourth and fifth-gear ratio, offering drivers a more relaxed cruising gait and better economy on longer journeys.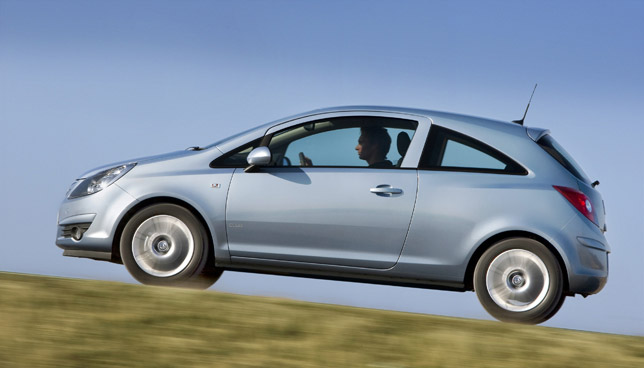 Aerodynamics have been enhanced by lowering the Corsa's ride height by 20 millimetres and optimising airflow through its front air intakes. Complementing these changes are narrower (175/70 instead of 185/70) low-rolling resistance tyres, fitted to lighter 14-inch steel wheels with new wheel trims - part of a weight-saving package that cuts the Corsa ecoFLEX's kerbweight by 45 kilogrammes.
Available in Life and Club trims, the Corsa ecoFLEX starts at just £11,295, though buyers with qualifying vehicles can use the joint Vauxhall/Government 'scrappage' incentive to obtain a £2,000 discount, reducing this price to £9,295. And since the Corsa ecoFLEX attracts only 13 per cent Benefit in Kind tax for company drivers, and a mere £35 VED annually, it's set to be one of the cheapest cars to run on the market.
SPECIFICATIONS
| | |
| --- | --- |
| Max speed | 104mph |
| 0-60mph | 13.5secs |
| 30-50mph (4th gear) | 9.5secs |
| Combined C02 emissions | 105g/km |
| Urban economy | 54.3mpg |
| Extra-urban economy | 85.6mpg |
| Combined economy | 70.6mpg |
| Max power | 75PS @ 4000rpm |
| Max torque | 170Nm @ 1750-2500rpm |
| Engine capacity | 1248cc |
| Engine configuration | 4 cyls, 4 valves/cyl, DOHC |
| Fuel/Induction turbocharger | Common rail/Intercooled |
| VED band | B |
| BIK band | 13% |