Volkswagen GTI Roadster Vision Gran Turismo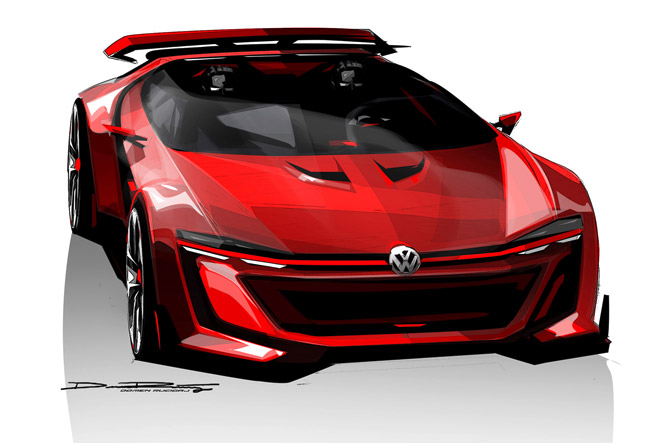 Volkswagen GTI Roadster Vision Gran Turismo is a supercar that has something in common with the BMW Vision Grab Tourismo. And if you follow us regularly you probably have already guessed that what they share is the sad fact that they will never be produced. Why? Because just like the BMW, this Volkswagen has been designed for a singular mission – to be featured in a video game. All of you who have a Sony PlayStation will have the pleasure of driving this virtual beauty.
What is more, the brand has announced that this extreme interpretation of the Golf GTI will make its debut at the Woerthersee Festival in Austria. The event starts on 28th of May. The ultimate vehicle uses the Golf GTI Design DNA to create a strong sporting statement, with distinctive horizontal graphics.
GTI Roadster Vision Gran Turismo is driven by a 3.0-liter twin-turbo VR6 TSI engine. The latter produces 503 horsepower (370 kW) and 665 Nm (491 lb-ft) of torque. The powertrain is coupled with a seven-speed DSG dual-clutch automatic transmission, which has been programmed to give incredibly fast shifts on the racetrack.
Integrated rear diffuser, a gigantic rear wing, and a race-car-style front splitter optimize the roadholding on the track. The car runs on 20-inch wheels that carry 235/35 front and 275/30 rear tires.
4Motion all-wheel drive helps to transmit the torque to the pavement, while the supercar-style vented disc brakes are fitted, with a diameter of 15.0 inches up front and 14.0 inches at the back. Volkswagen GTI Roadster Vision Gran Turismo has a bright, vivid metallic red exterior color.
Source: Volkswagen