2015 Volkswagen Polo GTI Facelift is Almost as Good as the Polo R WRC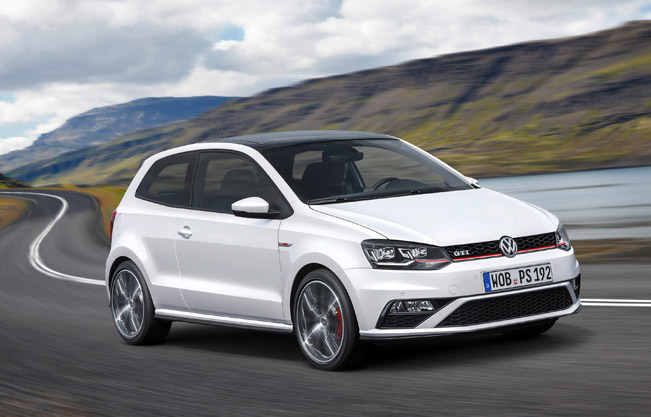 2015 Volkswagen Polo GTI has just been announced and it is intended to be launched only for the European customers. The car is the fourth generation compact GTI and comes with an output of 192 hp (141 kW), which is 12 hp more than its predecessor. In addition, the vehicle is also going to be available with manual gearbox again. The top speed of the new Polo GTI is estimated at 236 km/h. Interestingly enough this makes it 7 km/h shorter of the 220 hp (162 kW) Polo R WRC.
The option of automatic dual clutch gearbox is also available. Both transmission variants accelerate the Polo GTI from 0 to 100 km/h in 6.7 seconds. This is just 0.3 seconds more than the figure for the Polo R WRC.
In terms of fuel consumption the car shows 5.6 l/100 km and 129 g/km of CO2 emissions with the seven-speed DSG, and 6.0 litres and 139 g/km of CO2 with the six-speed manual variant. And here the Polo R WRC, which has a fuel consumption of 7.5 l/100 km is finally overtaken by the new Polo GTI.
The exterior of the facelifted Volkswagen car includes new bumpers, distinctively flared door sills, the GTI logo on the front wing and classic GTI insignia. LED headlights are available for the first time in the model.
The sporty appeal of the model is additionally improved by the set of new alloys that come in the size of 7.5x17 inches. Through them we see gleaming red brake callipers and standard sports suspension. At the back of the car we can't pass the GTI roof spoiler, tail light clusters in 'Dark Red', the black grained diffuser and the chrome dual exhaust tailpipes.
GTI red accentuates the sporty design of the interior. For instance, the leather sports steering wheel has contrasting red stitching, as do the gear lever and handbrake lever, while the floor mats feature borders with red beading. The driver and occupants will enjoy height-adjustable heated sports seats with centre panels upholstered in exclusive 'Clark' cloth.
The infotainment systems offered here include Bluetooth audio streaming, a proximity sensor and two-finger map zooming in navigation mode. For the first time, Volkswagen is offering electronically adjustable dampers in the Polo GTI which are the core technology basis of the optional 'Sport Select' suspension.
Source: Volkswagen