What is the Difference Between 2015 and 1985 Golf GTI?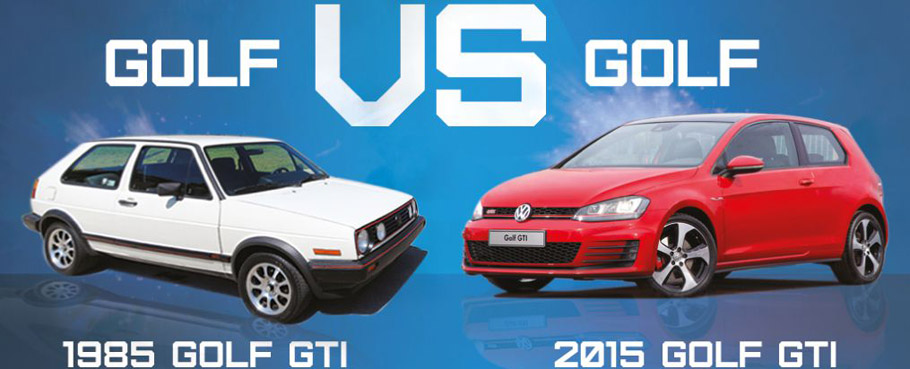 Volkswagen's 1985 Golf GTI is already a collector's vehicle today. But when put side by side by its youngest brother, the 2015 Golf GTI, you can see how much the model has changed. The latest 2015 model comes with more than twice horsepower, incredible fuel consumption efficiency and technology gadgets, that were not even seen on sci-fi movies back in 1985. But there is one amazing fact, that is beyond that time gap. The MSRP of the 2015 model is only 25% more than the MSRP for the 1985 model.
Rocco DeMas comments, that the fuel economy and the overall performance upgrades are impressive for the last 30 years. But he is also surprised, when it comes to safety advances. DeMans is really amazed by the incredible improvement of the safety system for these 30 years.
See also: ABT Releases 400HP Volkswagen Golf R
We offer you a comparison between the two models, when it comes to performance: The engine power has increased from 100 to 220 hp (73 to161 kW), the acceleration from 0 to 100 km/h (62mph) has decreased from 8.5 seconds to 5.8 seconds. Interesting fact is that the Curb weight increased with almost 1,000lbs. Of course, there are many differences in the transmission system. The options increased from standard 5-speed to 6-speed manual or 6-speed dual clutch automatic gearbox. In 1985 Power windows  and locks and the air conditioning were incredible extra, but today they are all included in the standard equipment for the 2015 model.
It is really incredible how much a car changes in 30 years. We all hope, that the improvements and optimizations will continue and in the future!