2012 Vauxhall Combo Panel Van
2012 Vauxhall Combo Panel Van is ready to hit the market. The vehicle is set to become a firm favourite of owner-drivers and large fleets alike with its combination of state-of-the-art technology and class-leading features.
It is available in two wheelbases, two heights, two gross vehicle weights (2,000kg and 2,300kg) two trim levels and with four engine choices.
The engine range includes four diesel engines. The first one is a 1.3 CDTi with 90PS and 1.6 CDTi with 90PS. There is also a variant with 105PS for 1.6 CDTi. The powerful 2.0 CDTi engine provides 135PS. The 1.3 CDTi engines are fitted with 5-speed manual gearbox, while the more powerful CDTi units have a 6-speed manual. The 1.6 CDTi is also offered with Vauxhall's Tecshift automated 5-speed manual transmission.  With the exception of the Tecshift units, all powertrains are available with Start/Stop functionality to deliver even lower fuel consumption and emissions.
Standard equipment icnludes remote central door locking with deadlocks, full-steel bulkhead, trip computer, electric power steering, driver's airbag, ABS with EBD, CD/radio and a 12 volt power outlet in the dashboard.
The Sportive trim level adds air conditioning, metallic paint, body-colour bumpers and door mirrors, nearside sliding door, driver seat with height adjustment, armrest and lumbar support and full wheel covers. Check out the full price list, below!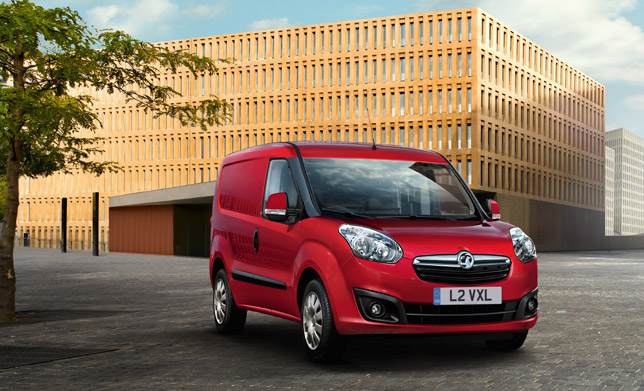 | | | |
| --- | --- | --- |
| L1H1 Panel Van | Price (£) exc. VAT | On-the-road RRP (£) exc. VAT |
| COMBO | | |
| 2000 1.3CDTI 16v (90PS) | 13,855.00 | 14,703.33 |
| 2000 1.3CDTI 16v (90PS) Start/Stop ecoFLEX | 13,990.00 | 14,838.33 |
| 2000 1.6CDTI 16v (90PS) Start/Stop Tecshift | 15,490.00 | 16,338.33 |
| 2000 1.6CDTI 16v (105PS) Start/Stop | 14,790.00 | 15,638.33 |
| 2300 1.3CDTI 16v (90PS) | 14,050.00 | 14,898.33 |
| 2300 1.3CDTI 16v (90PS) Start/Stop ecoFLEX | 14,185.00 | 15,033.33 |
| 2300 1.6CDTI 16v (90PS) Start/Stop Tecshift | 15,685.00 | 16,533.33 |
| 2300 1.6CDTI 16v (105PS) Start/Stop | 14,985.00 | 15,833.33 |
| SPORTIVE | | |
| 2000 1.3CDTI 16v (90PS) | 15,125.00 | 15,973.33 |
| 2000 1.3CDTI 16v (90PS) Start/Stop | 15,260.00 | 16,108.33 |
| 2000 1.6CDTI 16v (105PS) Start/Stop | 16,060.00 | 16,908.33 |
| 2000 2.0CDTI 16v (135PS) Start/Stop | 17,160.00 | 18,008.33 |
| 2300 1.3CDTI 16v (90PS) | 15,320.00 | 16,168.33 |
| 2300 1.3CDTI 16v (90PS) Start/Stop | 15,455.00 | 16,303.33 |
| 2300 1.6CDTI 16v (105PS) Start/Stop | 16,255.00 | 17,103.33 |
| 2300 2.0CDTI 16v (135PS) Start/Stop | 17,355.00 | 18,203.33 |
| | | |
| L1H2 Panel Van | | |
| COMBO | | |
| 2000 1.6CDTI 16v (90PS) Start/Stop Tecshift | 16,240.00 | 17,088.33 |
| 2000 1.6CDTI 16v (105PS) Start/Stop | 15,540.00 | 16,388.33 |
| 2300 1.6CDTI 16v (90PS) Start/Stop Tecshift | 16,435.00 | 17,283.33 |
| 2300 1.6CDTI 16v (105PS) Start/Stop | 15,735.00 | 16,583.33 |
| SPORTIVE | | |
| 2000 1.6CDTI 16v (105PS) Start/Stop | 16,810.00 | 17,658.33 |
| 2300 1.6CDTI 16v (105PS) Start/Stop | 17,005.00 | 17,853.33 |
| | | |
| L2H1 Panel Van | | |
| COMBO | | |
| 2300 1.3CDTI 16v (90PS) | 14,855.00 | 15,703.33 |
| 2300 1.3CDTI 16v (90PS) Start/Stop | 14,990.00 | 15,838.33 |
| 2300 1.6CDTI 16v (90PS) Start/Stop Tecshift | 16,490.00 | 17,338.33 |
| 2300 1.6CDTI 16v (105PS) Start/Stop | 15,790.00 | 16,638.33 |
| SPORTIVE | | |
| 2300 1.3CDTI 16v (90PS) | 15,940.00 | 16,788.33 |
| 2300 1.3CDTI 16v (90PS) Start/Stop | 16,075.00 | 16,923.33 |
| 2300 1.6CDTI 16v (105PS) Start/Stop | 16,875.00 | 17,723.33 |
Source: Vauxhall