2014 World's Greatest Drag Race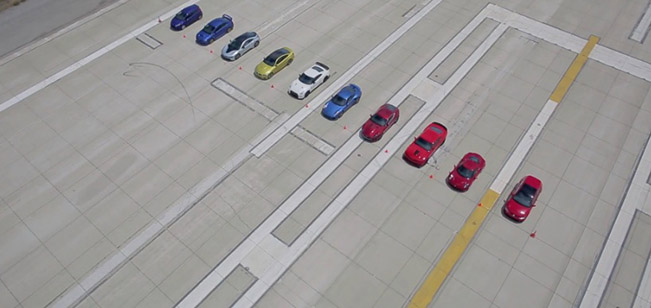 Motor Trend has once again presented us with their annual World's Greatest Drag Race video. How can a person not love it when in the last video we can see 10 of the world's most badass sports car and supercars gathered in one place?! That's pretty freaking amazing! So prepare for a mixture of epic sound, speed and performance!
This year, the lineup shows off with some stunningly fast cars for sure. The group of ten is comprised of the following beauties: Porsche 911 Turbo S (560 HP), BMW i8 (357 HP), BMW M4 (425 HP), Alfa Romeo 4C (237 HP), Ford Fiesta ST (197 HP), Jaguar F-Type R Coupe (550 HP), Chevrolet Camaro Z/28 (505 HP), Nissan GT-R NISMO (600 HP), Volkswagen GTI (217 HP) and Subaru WRX STI (305 HP). Well, well, give me one of those head-scratchers for a day and I will be more than glad to take the keys.
Predictable as it may be, the ¼ mile drag race is firstly blasted-off by the all-wheel-drive and turbocharged duo of Porche 911, followed closely by Nissan GT-R NISMO. So take out and wave the 911 flag and still congratulate Nissan fans for the great performance of the GT-R NISMO.
The winner scores 10.9 second time at 126 mph which gains it the leading and winning place. Second comes the GT-R at 11.1 seconds and 125.3 mph. The third place is achieved by Jaguar at 11.8 seconds at 122.3 mph. The rest is as it follows: BMW M4 – 12.2 seconds at 117.8 mph; Camaro Z/28 – 12.3 seconds at 117.2 mph; BMW i8 – 12.4 seconds and 112.1 mph; Alfa Romeo 4C – 12.8 seconds at 104.8; Subaru – 13.1 seconds at 104.4 mph; Volkswagen – 14.5 seconds and 97.9 mph and, finally, Ford Fiesta ST with 14.9 seconds and 94.6 mph.
Click on the link to also enjoy the fun!
Source: Motor Trend Channel YouTube