2016 Chevrolet Camaro Convertible Breaks Cover!

2016 Chevrolet Camaro Convertible has been finally revealed and it looks invigorating! The cabrio features the design of the coupe variant but has a retractable soft top. By the way, Chevrolet says that this top is the most advanced one in the segment. In terms of performance and design, this convertible literally stands out. And with the addition of the sophisticated top, the Camaro looks not only fantastic, but also delivers enjoyable ride.
Most Advanced Top in the Segment
If you wonder what's so special about this top, you need to reed further. 2016 Chevrolet Camaro Convertible is the only car in the cabriolet segment, which offers several functions related to its top. First, the latter operates fully automatically with the help of latches, thus automatically releasing and securing the top.
SEE ALSO: Have You Heard About the Gen Six Camaro?
The second feature is that it opens or closes at speeds of up to 30 mph, and can be also opened remotely via key fob. The next cool feature is that the hard tonneau cover is deployed automatically, in order to provide a more refined, finished appearance when the top is lowered and stowed.
Furthermore, the electro-hydraulic power roof system features multilayer construction. The benefit of this is that it improves the acoustic and thermal insulation. In addition, the system was designed to provide more comfortable and quieter ride.
Design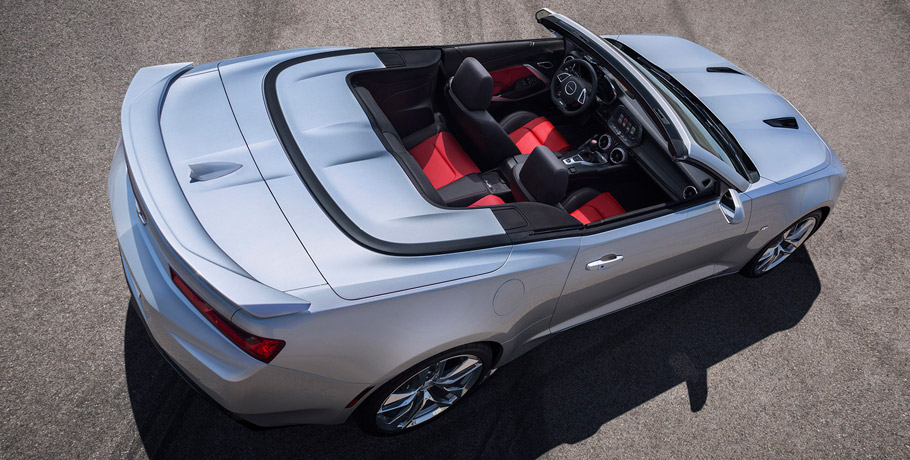 Of course, there is nothing else different in the convertible from the coupe, excluding the top and the position of the antenna for the radio. The top perfectly emulates the sleek silhouette of the Camaro coupe.
Just like its sibling, the 2016 Chevrolet Camaro Convertible is built on a stiffer, but lighter structure. By the way, the weight savings here are estimated at around 200 pounds compared to the previous generation. These facts also lead to the conclusion that the Camaro convertible will still have coupe's "sharp chassis tuning and nimble reflexes".
SEE ALSO: 2016 Chevy Camaro Convertible Leaks Ahead of Official Debut [VIDEO]
There is another advantage from this architecture. It enables the top to fold down completely beneath the belt line. Afterwards, the hard tonneau cover automatically covers the folded top, resulting in an exclusive design and appearance.
EngineRange

Just like the Chevy Camaro coupe, the convertible will be offered in LT and SS trim levels. There are six engine combinations offered, including the 2.0L Turbo unit, which has been rated at 275 horsepower (202 kW), the 3.6L V-6 producing 335 horsepower (246 kW), and the LT1 6.2L V-8 with 455 horsepower (335 kW) and 617 Nm (455 lb-ft) of torque. Each powertrain can be mated with either a six-speed manual or eight-speed automatic transmission.
2016 Chevrolet Camaro Convertible and coupe will be available on the market in the beginning of next year.
Source: Chevrolet