Alfa Romeo at Geneva
Alfa Romeo might not have much cars to show on the 2012 Geneva Auto Show (they have only two production vehicles at the moment) but they are betting on technology and choice. There will be four Giulietta models and three Mitto cars taking the stand. Some of them will feature the Fiat group 0.9 TwinAir Turbo "International engine of the year 2011", many will be coupled with the Alfa TCT (double clutched transmission) and will also feature Distinctive and Quadrifoglio Verde trim levels.
Alfa Giulietta
Thanks to the TCT feature, a 1.4 TB MultiAir 170 HP Giulietta has the best efficiency-performance ratio in its category. It is basically a twin clutch automatic gearbox setup which allows downshifting or upshifting with either a gear lever or paddles behind the wheel. On top of that, one can further optimize the Giulietta's road manners with Alfa's DNA dynamic selector – a master switch of all the systems in the car. Have it on Dynamic and get ready to cut some apexes with vigor. Normal mode on the other hand provides you with an everyday driving set up and All-weather mode is for rainy or snowy surfaces with poor grip. Despite being capable of reaching 100km/h in 7.7 seconds, the Giulietta TCT MultiAir returns 5.2 l/100km in the combined cycle and emits 121 g/km of CO2
Props also go to another Giulietta TCT which harbors a 170 HP 2.0 JTDM diesel engine. It does the 100km/h sprint in 7.9 seconds but offers even more economy - 4.5 l/100 km and 119 g/km of carbon dioxide emissions. To prove highlight the role of the TCT in these figures, Alfa say that the same car with a manual does 4.7 l/100 km and 125 g/km.
A somewhat less powerful 120 HP Giulietta Distinctive 1.4 Turbo will also be present to restore equilibrium after the fury that will be the fourth Giulietta - 235 HP 1750 TBi Quadrifoglio Verde. That flagship trooper can shred its own tires with 340 Nm of torque as early as 1,900 rpm.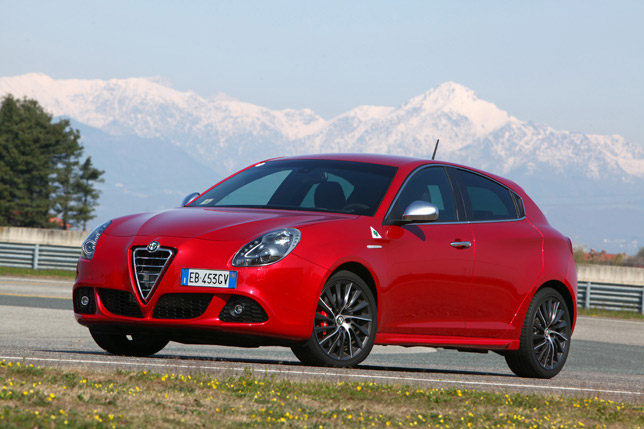 Alfa Mitto
The Mitto niche will be represented by three member – the 0.9 TwinAir Turbo that has only two cylinders yet delivers a maximum of 85 HP at 5,500 rpm and a torque of 145 Nm at 2,000 rpm. Basically this drivetrain, thanks to its cleverness, is capable of producing more torque and be cleaner and less thirstier than any other engine rated with that same power. This little bumble bee also comes with the Alfa DNA system and a Stop & Start function which helps with the urban frugality.
The not-so-conscious about fuel economy can find paradise somewhere else. Why not start with the Mitto Quadrifoglio Verde with Alfa Active Suspension? It is all very complicated underneath – The suspension interacts with the braking system and steering to obtain more effective control of the dynamics of the vehicle or in other words it is a damn good fun this car. Only Alfas capable putting a smile on one's face go under the Quadrifoglio Verde name. Noticeable differences from a stock model hide in and out. For example the rear-view mirror covers, the headlight and light cluster frames and the handles come with an exclusive satinised chrome material; a new sporty seat with a central part made of Alcantara. Things on the options list include 18" alloy wheels and sporty Sabelt seats with carbon fiber woven backrests.
Under the hood, a 170 HP 1.4 MultiAir Turbo works its magic while we need to remember that this is the light and nimble Mitto we are talking about - 6.7 kg per a single horsepower, 0 to 100 km/h is done in just over 7 seconds.
Last but not least, there will be a Mitto fitted with the same TCT equipment that comes with the Giulietta models. The engine is still 1.4 but with reduced power output and a Stop & Start system – a well rounded mid-range car with some extraordinary technology inside.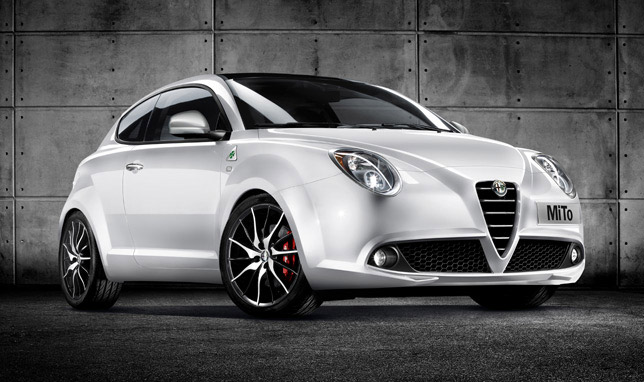 Source: Alfa Romeo