All Bugatti Veyron Legend Editions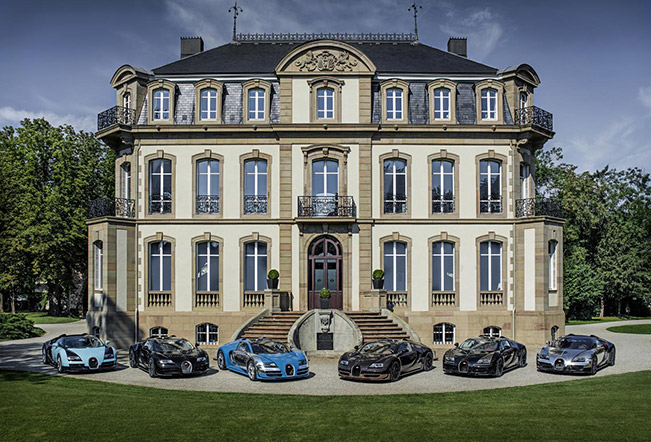 All six Bugatti Veyron Legend Editions have been gathered for a one-off presentation at the Monterey Car Week. The entire collection costs no less than $17.64 million.
The special edition series were firstly introduced a year ago with the Jean- Pierre Wimille edition. The last model is the Ettore Bugatti edition, which was showcased last weekend at the 2014 Pebble Beach Concours d'Elegance. Other four are: Jean Bugatti, the Meo Costantini, the Rembrandt Bugatti and the Black Bess editions.
Totally 18 units of "Les legends de Bugatti" editions have been built.
As a reminder, the Veyron Grand Sport Vitesse is powered by an 8.0 liter W16 quad-turbo engin – 1200HP (883 kW) and 1500Nm (1106 lb-ft) of torque. The engine is connected to a 7-speed DSG gearbox. 0-100 km/h in 2.6 seconds and 0-200 km/h in 7.1 seconds, 0-300 km/h in 16 seconds dead. The top speed is 410 km/h (254 mph).  ¼ mile is covered in 10.0 seconds flat and 1 mile in just 25.0 seconds. Other interesting disciplines like 0-100-0 km/h take 5.9 seconds and 0-200-0 take 12.9 seconds. The interesting 0-300-0, which is brutal for the brakes take 23.9 seconds.
I also want to remind you, that the Veyron model will actually cut of production and a new model is expected to hit the scene in the next years. Stay tuned!
Source: Bugatti