Brilliantly Bright: SR Auto Fisker Karma Chrome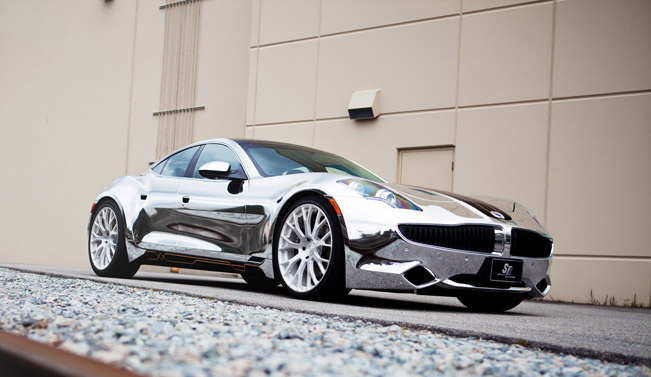 SR Auto Fisker Karma Chrome is a vehicle that can't be seen everyday. Firstly, given the fact that it is a Fisker Karma, and secondly because it's outstanding exterior appearance. Brilliantly bright this vehicle exudes perfect stance and electrifying charm.
The four-door Fisker model brings to reality the astonishing acceleration from 0 to 100 km/h in just 5.9 seconds. Despite this performance the model is able to achieve an impressive consumption of more than 100 miles per gallon and 83 g/km CO2 emissions.
What is more important however is that this car transcends the boundaries of color and tones. A majestic reflection of the world is cast upon the hybrid super car – it wears a chrome cloak. In addition, the elongated frame accentuates the sheer magnificence of each panel.
Thanks to SR Auto Group, what completes the perfect visual attributes of this particular vehicle is the new bespoke set of twenty-two inch forged PUR 2WO wheels, which are brushed silver face with pearl white windows.
Source: SR Auto