Ferrari 458 Speciale A Breaks Cover in Paris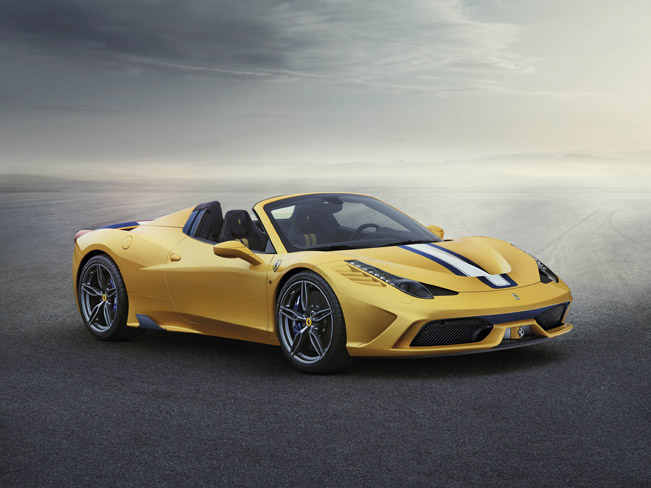 Ferrari 458 Speciale A Spider is a very special limited edition series which was revealed at the Paris Motor Show. The letter A in the name of the car stands for "Aperta", which in English means "open". This model is created in order to celebrate the success of the various versions of the 458 and it will be dedicated to just 499 Ferrari collectors. In addition, this Ferrari 458 is the most powerful spider in Prancing Horse history.
458 Speciale A offers the combination of extreme performance with the sublime pleasure of drop-top driving. Its aluminium retractable hard top need only 14 seconds to deploy or retract, thus reducing the weight difference with the Speciale coupe to just 50 kg.
The vehicle is driven by the most powerful naturally-aspirated road-going V8 engine ever built by Ferrari. It punches out a massive 605 hp (445 kW) (135 cv/l specific power output) and 540 Nm (399 lb-ft) of torque at 6000 rpm. Nevertheless, it is still capable of generating 275 g/km of CO2 emissions.
These figures help the new model accelerate from 0 to 100 km/h in only 3.0 seconds. In fact, the car has a Fiorano lap time of 1'23"5. These superb results are due to its front and rear active aerodynamics, the rigidity of a chassis that incorporates 10 aluminium alloys, and Side Slip Angle Control (SSC) for sporty driving in all conditions. In addition, there is also the seductively exhilarating signature Ferrari soundtrack present.
The exterior forms of this 458 Speciale A are absolutely performance-oriented. In fact, a series of innovative and original bodywork solutions has made it the most aerodynamically efficient Ferrari spider ever.
The cabin has a distinctive racing-inspired atmosphere and features all around Alcantara and carbon-fibre. The glove compartment on the dash has been replaced with convenient odds and ends pockets on the tunnel and doors. There are also newly-designed seats that have Sabelt carbon-fibre shells. The shoulder-rests are trimmed in Alcantara this enhancing the grip while seated, and the backrests and seat itself are padded with a breathable 3D fabric.
Ferrari 458 Speciale A - Technical Specifications
Engine
| | |
| --- | --- |
| Type | V8, 90° - Direct Injection - Dry Sump |
| Bore and stroke | 94 x 81 mm (3.7 x 3.2 in) |
| Overall displacement | 4497 cm3 (274.4 cu in) |
| Compression ratio | 14.0:1 |
| Maximum power** | 445 kW (605 cv) at 9000 rpm |
| Specific power output | 135 cv/l (1.62 kW/cu in) |
| Maximum torque | 540 Nm (398 lb ft) at 6000 rpm |
| Maximum revs (limiter) | 9000 rpm |
Dimensions and weight
| | |
| --- | --- |
| Length | 4571 mm (180.0 in) |
| Width | 1951 mm (76.8 in) |
| Height | 1204 mm (47.4 in) |
| Wheelbase | 2650 mm (104.3 in) |
| Front track | 1679 mm (66.1 in) |
| Rear track | 1632 mm (64.3 in) |
| Dry weight* | 1340 kg  (2954 lbf) |
| Kerb weight* | 1445 kg (3185 lbf) |
| Weight distribution | 42% front, 58% rear |
| Weight/power ratio | 2.21 kg/cv (4,46 lb/kW) |
| Fuel tank capacity | 86 l (22 US gallon 18 UK gallon) |
Tyres and wheels
| | |
| --- | --- |
| Front | 245/35 ZR20 J9 |
| Rear | 305/30 ZR20 J11 |
Carbon-ceramic braking system
Front  - 398x223x36 mm (15.7 x 8.8 x 1.4 in)
Rear - 360x233x32 mm (14.2 x 9.2 x 1.3 in)
Electronic control systems
| | |
| --- | --- |
| ESC | Stability control |
| High performance ABS/EBD | High performance anti-lock braking system/electronic brake force distribution |
| F1-Trac | F1 traction control |
| E-Diff 3 | Third generation electronic differential |
| SSC | Side slip angle control |
| Frs SCM-E | Magnetorheological suspension control with frequency analysis system and twin solenoids |
Gearbox
7-speed F1 dual-clutch transmission
Performance
| | |
| --- | --- |
| Maximum speed | 320 km/h (199 mph) |
| 0-100 km/h (0-62 mph) | 3.0 sec |
| 0-200 km/h (0-124 mph) | 9.5 sec |
| 0-400m (0-437 yd) | 10.8 sec |
| 0-1000m (0-1093 yd) | 19.6 sec |
| 100 - 0 km/h (62 – 0 mph) | 31 m (101.7 ft) |
| 200 – 0 km/h (124 – 0 kph) | 122 m (400.3 ft) |
| Fiorano lap time | 1'23''5 |
Fuel consumption and emissions (ECE + EUDC combined cycle)
Fuel consumption: 11.8 l/100 km
CO2 emissions: 275 gr/km