Video Teaser Of Ferrari 458 Speciale Released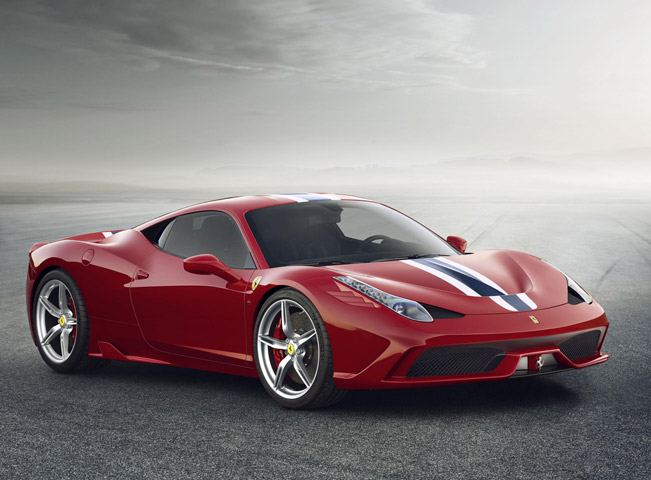 Ferrari 458 Speciale was revealed couple of days ago showing the latest product in Ferrari's portfolio. The new model is based on the exceptional 458 Italia but offers great powertrain characteristics, aerodynamics and vehicle dynamics benefits. Now the brand is revealing a first video teaser of the new model which you can view below.
Many sophisticated and innovative solutions have been applied in this special edition model featuring advanced active aerodynamics, which are expected to become standard in all new Ferraris in the future.
The highlight in this model is definitely the aerodynamics, which guided the work of the Ferrari Styling Centre. I order to make them better than ever, the brand joined forces with Pininfarina, and hence have delivered such forms of the car which ensure more performance-oriented driving than ever.
In fact, the most notable features in these terms are the front and rear movable aerodynamics. They balance the downforce and cut the drag, thus making 458 Speciale the most aerodynamically efficient range production car in brand's history.
Another highlight which is one of the most innovative content of this Ferrari model is the Side Slip angle Control system (SSC). The latter performs instant-to-instant analysis of the car's side slip, comparing it with the target value and then maximizing the torque management and torque distribution between the two wheels.
Moreover, what also improve the performance of the car are the Michelin Pilot Sport Cup2 tyres which were specifically created for this model. Ferrari 458 Speciale will make a public world debut at the 2013 Frankfurt International Motor Show in September.
Technical Specification Summary:
Engine

Type: V8 – 90°
Total displacement: 4495 cm3
Max. power output: 605 cv at 9000 rpm
Max. torque: 540 Nm at 6000 rpm

Weight

Dry weight: 1290 kg
Weight/power ratio: 2.13 kg/cv

Performance

0-100 km/h: 3.0"
0 – 200 km/h: 9.1"
Fiorano lap time: 1'23"5

Emissions (ECE + EUDC combined cycle)

CO2 emissions (with HELE System): 275 gr/km
Video Source: YouTube
Source: Ferrari