Volkswagen Golf R 400 Concept Car [sketch]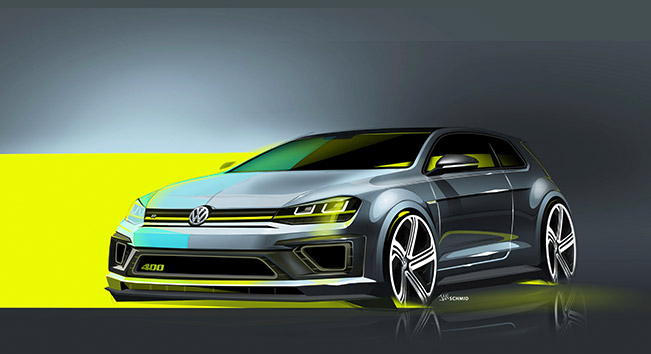 Volkswagen has published several design sketches of the Golf R 400 Concept Car. The ultra-hot hatchback will make its official premiere at the 2014 Beijing Motor Show on April 19th. As you may suggest, it will boast extreme power and aggressive exterior.
The exterior of Golf R400 Concept comes with new front and rear bumpers, flared wheelarches, uprated wheels and tires. The interior is also reworked and includes motorsport shell seats with integral head restraints and belt openings.
The flared wheelarches are deliberately reminiscent of those on the 1988 Rallye Golf G60, and most of the concept is painted in 'Silver Flake' metallic, in contrast to the gloss black roof and carbon door mirror caps.
Lemon Yellow highlights on the outside include the horizontal stripe across the grille,which, like the chrome strip on the Golf R, continues into the bi-xenon headlights, while the interior stitching is also 'Lemon Yellow'.
The four-wheel drive, DSG-equipped Golf R 400 will accelerate 0-100 km/h in 3.9 seconds and the top speed will be 280 km/h (174 mph).
No words about production, but Golf R 4000 will be definitely spectacular.
Source: Volkswagen