Volkswagen Golf R 400 - Even More Horsepower!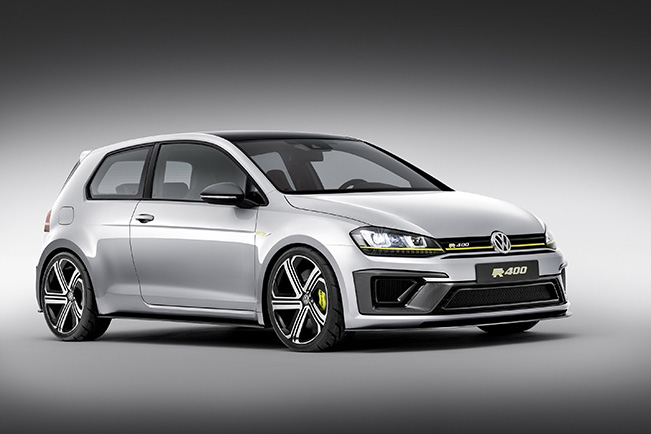 Volkswagen Golf R 400 is expected to have even more power in its production version. Of course, it won't reach 450 or 500HP, but we expect an increase of around 20 or 30HP. If, this happens, the new Golf VII R 400 will be the most powerful turbocharged car in the world (HP / liter).
For now, the most powerful production turbocharged car is Mercedes-Benz A 45 AMG powered by a 2.0 liter four-cylinder engine with 360HP (265 kW) – a specific output of 180HP / litre.Volkswagen Golf VII R 400 Concept was revealed at the 2014 Beijing Motor Show. It comes with a 2.0 liter four-cylinder turbocharged engine with 400HP (294 kW) and 450Nm (332 lb-ft) of torque.
The engine is connected to a 6-speed DSG transmission sending the power to 4MOTION all-wheel drive system. 0-100 km/h in 3.9 seconds and a top speed of 280 km/h (174 mph).The reason we believe that the Golf R 400 will have more power is that the Volkswagen's head of research and development Heinz-Jakob Neusser said at the Vienna engine symposium in Austria – "The new Golf R 400 could make more than 400 horsepower".
The uprated engine comes with a number of modifications including a newly developed turbocharger with a higher maximum charge pressure and reinforced crankcase. A water-cooled exhaust gas feed to the turbocharger integrated in the cylinder head helps to reduce full-load fuel consumption, while variable valve control with dual camshaft adjustment enhances the economy and performance.
The ultra-hot hatchback also has a number of improvements including performance tires and big brake system. The suspension is also revised in order to handle all that power.