Volkswagen GTI Roadster Debuts at The Los Angeles International Auto Show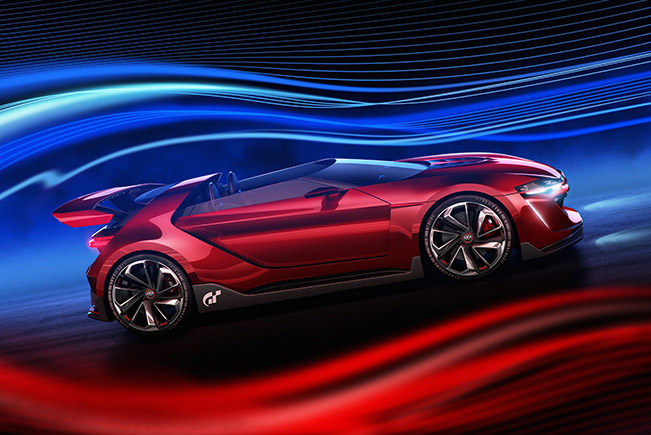 Volkswagen is going to depict its unconventional GTI Roadster concept car at the Los Angeles International Auto Show this week. The car was originally shown at the Wörthersee enthusiast festival in Austria in May. It clearly makes a statement which is able to blend in the virtual and the real world.
The GTI Roadster is a Golf GTI show car that is based on a CGI concept created to celebrate the 15th anniversary of the Sony PlayStation®3 classic "Gran Turismo 6" ("GT6"). The two-seater generates its power from a 3.0-litre V6 twin-turbocharged TSI® engine that boosts 503 hp (375 kW)  and a mighty 559 Nm (413 pound-feet) of torque between 4,000 and 6,000 rpm; from just 2,000 revs, 369 lb-ft of that torque is available. The car benefits from a seven-speed DSG® dual-clutch automatic transmission and a 4MOTION® all-wheel-drive system which transmit the power to 20-inch wheel-and-tire combination. To be precise, the 20-inch Golf GTI centerlock aluminum-alloy wheels have body-color elements and are 8.5J wide at the front and 9.5J at the back, with 235/35 ZR20 front and 275/30 ZR20 tires. This automotive monster accelerates from 0 to 60 mph in, approximately, 3.5 seconds and goes onto a top track speed of 192 mph.
The red exterior of the vehicle speaks for aggressiveness, provocativeness and looks into the future. The roadster body is aerodynamically optimized, with a chopped roofline and a massive rear wing being the most outstanding visual characteristic. Inside there is a carbonfiber monocoque and Alcantara seats as well as Alcantara four-spoke grip-style steering wheel.
The GTI Roadster, Vision Gran Turismo is available for download to owners of Gran Turismo 6 for the PlayStation 3 gaming console.
Source: Volkswagen