2012 Vauxhall Insignia BiTurbo Diesel Price - £27 120
Vauxhall has announced the new Insignia BiTurbo coming with the most powerful diesel engine the manufacturer has ever produced. Furthermore it has CO2 emissions as low as 129g/km.
2012 Vauxhall Insignia BiTurbo is now available on the market with a choice of five-door Hatch and Sports Tourer bodies in SRi, SRi Vx-line and Elite trims. The price starts at - £27 120 OTR.
The 2.0 liter bi-turbo diesel produces 190PS (140 kW) and 400Nm (295 lb-ft) of torque from just 1750RPM. The performance is superb – 0 to 100 km/h in 8.2 seconds and including standard Start/Stop across the range – the FWD Hatch achieves a combined cycle of 57.6mpg.
The Vauxhall's clever FlexRide adaptive damping is standard on all Insignia BiTurbos, which is normally a £790 option on front-wheel drive models. The system reacts within milliseconds to driver inputs and can 'learn' how the car is being driven and adapt damper settings accordingly. Drivers can also select Tour and Sport buttons, and configure the throttle, steering and damper settings in Sport mode separately.
On 4WD models, FlexRide is integrated with the car's Torque Transfer Device (TTD) and the rear axle's electronically controlled Limited Slip Differential (e-LSD). These features allow torque to be automatically transferred between front and rear wheels, and between left and right wheels on the rear axle, offering exceptional levels of traction, grip and control.
In common with other models in the Insignia range, the BiTurbo has the option of Vauxhall's new Front Camera System, with traffic sign recognition and lane departure warning, and Adaptive Cruise Control, which allows the driver to maintain a set distance from the car in front.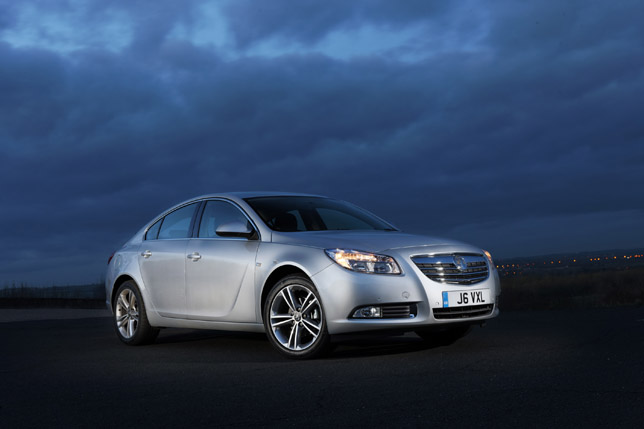 Check out the full specs and price list, below!
2012 Vauxhall Insignia BiTurbo Diesel
| | |
| --- | --- |
| Cylinders: | 4 |
| Bore/Stroke: | 83mm/90.4mm |
| Displacement: | 1956cm³ |
| Max Output: | 195PS @ 4000rpm |
| Max Engine Torque: | 400Nm @1750-2500rpm |
| Compression ratio: | 16.5:1 |
Performance
| | | | |
| --- | --- | --- | --- |
| 0-60mph | Manual FWD | Manual AWD | Automatic FWD |
| Hatch | 8.2 secs | 8.4 secs | 8.3 secs |
| Sports Tourer | 8.4 secs | 8.6 secs | 8.7 secs |
Fuel Efficiency and CO2
| | | | |
| --- | --- | --- | --- |
| Hatchback | Manual S/S FWD | Manual S/S AWD | Automatic FWD |
| Urban | 46.3 | 42.2 | 35.8 |
| Extra-Urban | 67.3 | 58.9 | 60.1 |
| Combined | 57.6 | 54.4 | 47.9 |
| CO2 | 129 | 146 | 155 |
| | | | |
| Sports Tourer | Manual S/S FWD | Manual S/S AWD | Automatic FWD |
| Urban | 43.5 | 40.4 | 33.2 |
| Extra-Urban | 65.7 | 60.1 | 50.4 |
| Combined | 55.4 | 51.4 | 42.2 |
| CO2 | 134 | 149 | 158 |
BiTurbo List Price
| | | | | |
| --- | --- | --- | --- | --- |
| Hatchback | List | VAT | Total | OTR |
| SRi 2.0CDTi (195PS) S/S | £21,970.83 | £4,394.17 | £26,365.00 | £27,120.00 |
| SRi 2.0CDTi (195PS) 4X4 S/S | £24,033.33 | £4,806.67 | £28,840.00 | £29,725.00 |
| | | | | |
| SRi Vx-line 2.0CDTi (195PS) S/S | £22,987.50 | £4,597.50 | £27,585.00 | £28,340.00 |
| SRi Vx-line 2.0CDTi (195PS) 4X4 S/S | £25,050.00 | £5,010.00 | £30,060.00 | £30,945.00 |
| | | | | |
| Elite 2.0CDTi (195PS) Automatic | £25,837.50 | £5,167.50 | £31,005.00 | £31,925.00 |
| | | | | |
| Sports Tourer | List | VAT | Total | OTR |
| SRi 2.0CDTi (195PS) S/S | £23,120.83 | £4,624.17 | £27,745.00 | £28,615.00 |
| SRi 2.0CDTi (195PS) 4X4 S/S | £25,183.33 | £5,036.67 | £30,220.00 | £31,105.00 |
| | | | | |
| SRi Vx-line 2.0CDTi (195PS) S/S | £24,137.50 | £4,827.50 | £28,965.00 | £29,835.00 |
| SRi Vx-line 2.0CDTi (195PS) 4X4 S/S | £26,200.00 | £5,240.00 | £31,440.00 | £32,325.00 |
| | | | | |
| Elite 2.0CDTi (195PS) Automatic | £27,000.00 | £5,400.00 | £32,400.00 | £33,320.00 |
Source: Vauxhall