Why Crooks Should Fear The Car Of The Year…
Following its crowning glory as 2009 European Car of the Year and the recent launch of the all-new Sports Tourer, it may seem there's no getting away from the Vauxhall Insignia.
And now, there really isn't! GM UK Special Vehicles has pulled the wraps off the all-new Police specification version of the car, which can be supplied to order to Police fleets throughout the UK.
Three versions are available. A high-speed pursuit car featuring either 2.0-litre 220PS turbo or a 2.8-litre 260PS petrol engine and all-wheel drive, or a 160PS 2.0 CDTi patrol car, with a choice of body styles - although it's the Sports Tourer that is expected to be the most popular among British forces thanks to its ability to swallow cones, signs and beacons, all part of the daily routine for a Police vehicle in the UK.
"We believe the Insignia gives us a great opportunity for the UK Police vehicle market," said Dick Ellam, GM UK Manager, Vehicle Conversions. "Already we've had a great response from professional police drivers, who have compared its performance and handling characteristics to those of more expensive premium-badged vehicles used by some forces. In these tough economic times, when Police forces are spending public money, this makes the Insignia an even more appealing option."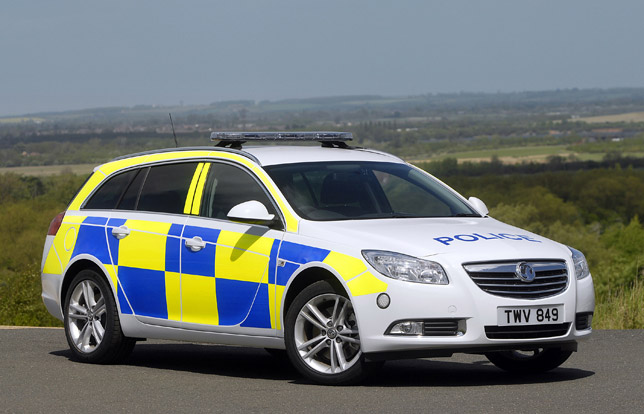 The Police Insignia is available to order direct from GM UK Special Vehicles and comes equipped from the production line with all of the necessary patrol car equipment, including Mobile Data Terminal (MDT) cameras, Automatic Numberplate Recognition (ANPR) system, roof lightbar with 360 blues, side alley lamps, sirens and full comms radio equipment.
The cars are based on standard models from the Insignia range and are converted in a special facility at GM's proving ground in Millbrook, Bedfordshire.
This 'turnkey' solution is ideal for Police forces in the UK, as GM UK Special Vehicles can supply ready-made police vehicles to order at very short notice, for example if a patrol car is written off in a collision. As well as the new Insignia, Vauxhall supplies Police-prepared variants of all of its model ranges including commercial vehicles, along with applications for other emergency services such as ambulances, high-speed paramedic response vehicles and support vehicles for fire brigades.